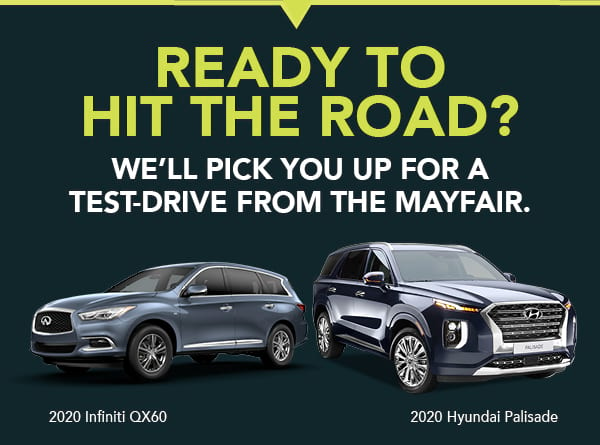 If you're thinking about a new vehicle, we can bring the test drive to you at Mayfair Lakeshore!

With 24 hours notice, you can schedule to have one of our Sales Advisors meet you at the Mayfair Lakeshore, with the vehicle of your choice.

It's just one more way our partnership with Mayfair Clubs makes your membership that much more rewarding.

Just fill out the form below to get started!
Downtown Autogroup Dealerships are happy to extend these exclusive offers to all Mayfair Clubs members. Offers are subject to change and/or cancellation without notice.
Mayfair Clubs Members Test Drive from Mayfair: Are you interested in test driving one of Downtown Autogroup's vehicles? We can make it very convenient by bringing the car(s) to you at the Mayfair. Just fill out the form at least 24 hours before you would like to do so and we will see you there!

Click on any of our locations below to start shopping!
*Complimentary Scheduled Service varies by manufacturer and will be reviewed at time of purchase. Offer card must be presented at time of initial sales appointment and cannot be redeemed after purchase. Offer valid through December 15, 2019.

Limit one card and offer redemption per household per 6 month period. May not be exchanged or modified. No cash value. Offers may be changed and/or cancelled without notice.